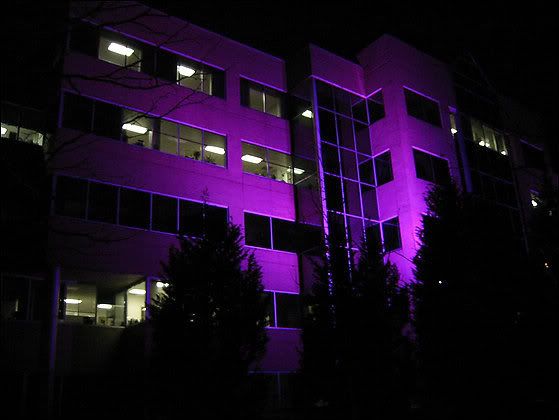 It's hard to believe that the hardest garment to get in this city is anything with the color Purple. No, not Whoopi Goldberg and them, the actual color purple. Today is Spirit Day in B-more and damn it you wouldn't believe it. I took the Offspring to get a fake out jersey for him and a cheap-ass Raven's coach shirt for me. HOWEVER, there was no purple to be found. The Offspring; poor kid. He's so clueless sometimes. We found a nice shirt with purple in it, but it wasn't a Ravens shirt and it was a tad big. He wasn't feeling it, so he might be assed out as being one of the few kids sans purple today. Uh oh. I have 2 young jerseys, but I'm not rockin' either one of them because my physique is all banged up and I am now a jersey snob. I can no longer bring myself to wear a replica jersey.
Priorities.
So I'll be rockin' the Passionate Power Purple shirt and tie. There may be pics....probably not. But what there will be pics of is any great bastardization of UB's campus in purple.
BTW, the included pic is NOT from the local paper, but from the Washington Post. THE WASHINGTON POST. Here is the greatest season of the Raven's short history and the paper doesn't even pics of how the city is ablazed in purple. Hmmmm....and they wonder why readership is down in the City That Reads.